Hard Hat Recruits is now in its 8th year and is dedicated to recruiting the very best skilled specialist technical and executives for New Zealand.
We are in the hard hat people business – from recruiting the best construction people through to bringing you highly talented engineering professionals and specialist operators.
We operate to supply permanent staff to suit your specific needs.
In today's market, and particularly with immigration restraints , skilled specialists  resources can be tight resulting in a candidate driven market. With this in mind, Hard Hat Recruits has worked with clients and candidates on a long-term basis and have built the relationships that create an open and honest recruitment environment.
Often, clients do not have access to the passive candidate market – those who are in a role and are not actively looking – as a result Hard Hat can provide you with more of a choice, without you feeling that there is a shortage of skilled workers and settling for second best.
We focus on the 'hard' part, and we are good at it.
Risk free recruitment, give us a call: 09 282 3156
edenfx HSE Recruitment, a sister company to Hard Hat Recruits, are a team of qualified HSE professionals who are also fully accredited and qualified recruiters, working to support their industry with specialist Health and Safety Recruitment throughout New Zealand.
edenfx identified that HSE has become a dynamic part of every business and has forged its way to the top of the corporate agenda. It is this detailed understanding of the importance of HSE which has led edenfx to recognise the need to provide superior recruitment services exclusively for professionals within the Health, Safety, Environmental, Quality and Risk Management sectors.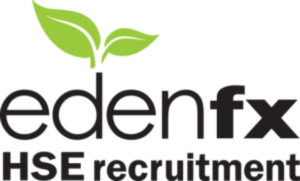 edenfx HSE Recruitment specialises in recruitment for the following disciplines:
Health, Safety and Environmental
Quality
Environment
Risk Management
Injury Management and Rehabilitation
Occupational Health and Safety
edenfx HSE Recruitment works within industries including but not limited to:
Agriculture
Aviation
Construction
Education
Electricity
Energy
Engineering
Environmental
Forestry
Health
Manufacturing
Mining
Oil and Gas
Public Sector
Retail
Telecommunications
Transportation
Our services are tailor made and guaranteed. Contact us here.
Relax throughout the recruitment process, with 100% confidence in Hard Hat Recruits.