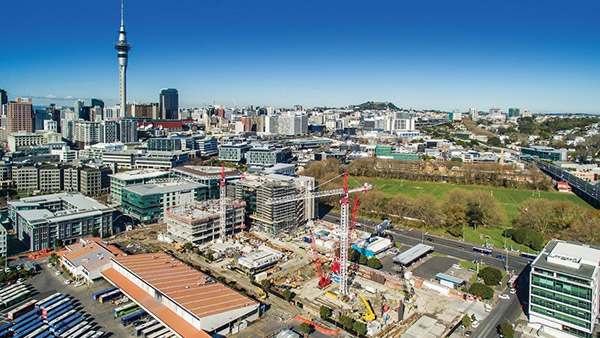 Predictions of the building boom peaking this year have been pushed out to 2020, according to one of the industry's foremost reports.
This year's national construction pipeline, a forecast by the Ministry of Business, Innovation and Employment (MBIE), predicts the construction boom will last longer than expected, remaining above $30 billion for at least the next five years.
The workload is now expected to grow another 23 per cent by 2020, peaking at $42b, $5b higher than previously forecasted and three years further out.
This was good news for the boom-bust sector, with the New Zealand Institute of Building (NZIOB) saying the construction industry was moving away from its cyclical nature, "to one that is sustainable and robust".
In particular, it would give prospective workers confidence to embark on their training, NZIOB chief executive Malcolm Fleming said.
"We need 56,000 more of those people between last year and 2022, half of them are going to be in Auckland, so to encourage people to enter the industry, particularly college-age students, this gives a signal that there's going to be confidence that they will actually have a job "
Among the report's other findings:
– $34b worth of construction activity was carried out across the country last year, an 8 per cent increase.
– Residential building grew 11 per cent last year and was meant to peak this year at $21b, but is now expected to hit $25b in 2020, tapering off in 2022.
– Dwelling consents are expected to exceed 31,000 this year, a level not seen since 2004, and should stay high for the following five years. They are tipped to top out at 34,500 in 2019 and 2020.
– Non-residential building activity last year grew 12 per cent, and is poised to grow another 29 per cent, hitting $9.6b in 2019. Like residential, that's longer and higher than previously forecast.
Around the regions
Regionally, Auckland was not the strongest region for construction growth last year. That title belonged to the Waikato/Bay of Plenty, where all construction grew by 13 per cent and residential building alone was up 19 per cent.
Auckland was not far behind, however, with a 12 per cent leap in overall construction work, and 18 per cent in residential.
Dwelling consents are tipped to hit an annual rate of 13,100 by 2020, the rate Auckland needs to sustain to keep up with its population.
Looking ahead, though, Auckland and the Waikato / Bay of Plenty are expected to enjoy sustained growth to 2020, rising 38 per cent and 31 per cent respectively before levelling out. It's expected Auckland's boom will last several years post its peak.
In Wellington total work rose in value by 6.9 per cent to $2.4b last year, with the majority of growth coming from a 15 per cent jump in residential buildings. Overall work was expected to grow 16 per cent, levelling out in three years.
Canterbury's construction was flat, growing just 0.6 per cent as the residential rebuild tailed off. Offsetting the situation was a high level of non-residential work, and the workload is expected to remain around current levels till 2019, then slowly reduce.
Outside the three main centres, the rest of the country enjoyed an 8.8 per cent growth in construction and a robust 18 per cent in housing. It was expected to grow by 23 per cent and peak in 2019.
Although much has been written about Kiwis' passion for bigger houses, the report found that house sizes had generally plateaued, and even shrank in some regions.
Over the last decade, the average floor area of standalone houses stayed the same in most regions, Auckland around 230 square metres and the rest of the country hovering around 200sqm.
But floor areas fell in Canterbury from 230 square metres to 200sqm, and in Wellington from 220sqm to 185sqm.
Non-residential
Non-residential building activity in Auckland hit $2.3b last year, up 14 per cent, and is forecast to soar 69 per cent to $3.9b in 2019.
Wellington activity grew 2 per cent to $0.6b last year, and is expected to remain around current levels until 2019.
Builders were being kept busy in the Capital with demolitions, ongoing earthquake strengthening, retail, business, cultural and tourist facilities, hotels, convention centres, university expansions, civic buildings and mixed-use developments.
Christchurch's recovery of non-residential buildings such as schools, sporting facilities and civic buildings continues strongly. The value of work rose 23 per cent to $2.4b in 2016, and it is forecast to remain above $2.2b a year, slowing after 2020.
In the rest of the country, non-residential was worth $1.1b last year and is forecast to grow nearly 40 per cent to $1.7b in 2019 before dropping back to $1.3b in 2022.
Infrastructure
Another, rapidly growing but less well understood area of construction is infrastructure.
Roads, tunnels, mining, parks and power stations are among the many types of infrastructure and it dropped in value slightly last year, infrastructure is forecast to leap 25 per cent by value over the next six years.
Currently worth about $7.2b, the annual value of infrastructure work was expected to climb to $9.5b by 2022.
Altogether there were about 2400 known infrastructure projects planned, including the Kaikoura earthquake repair work and the Auckland City Rail Link.
A large proportion were in Auckland and Christchurch, and 10 projects worth more than $100m were due to start this year. Even more projects were due to take off next year.
Article source: Stuff.co.nz
Author: CATHERINE HARRIS
________________________________________
Please register with Hard Hat Recruits www.hardhatrecruits.co.nz for job opportunities in perspective growing areas. We look forward to working with you.