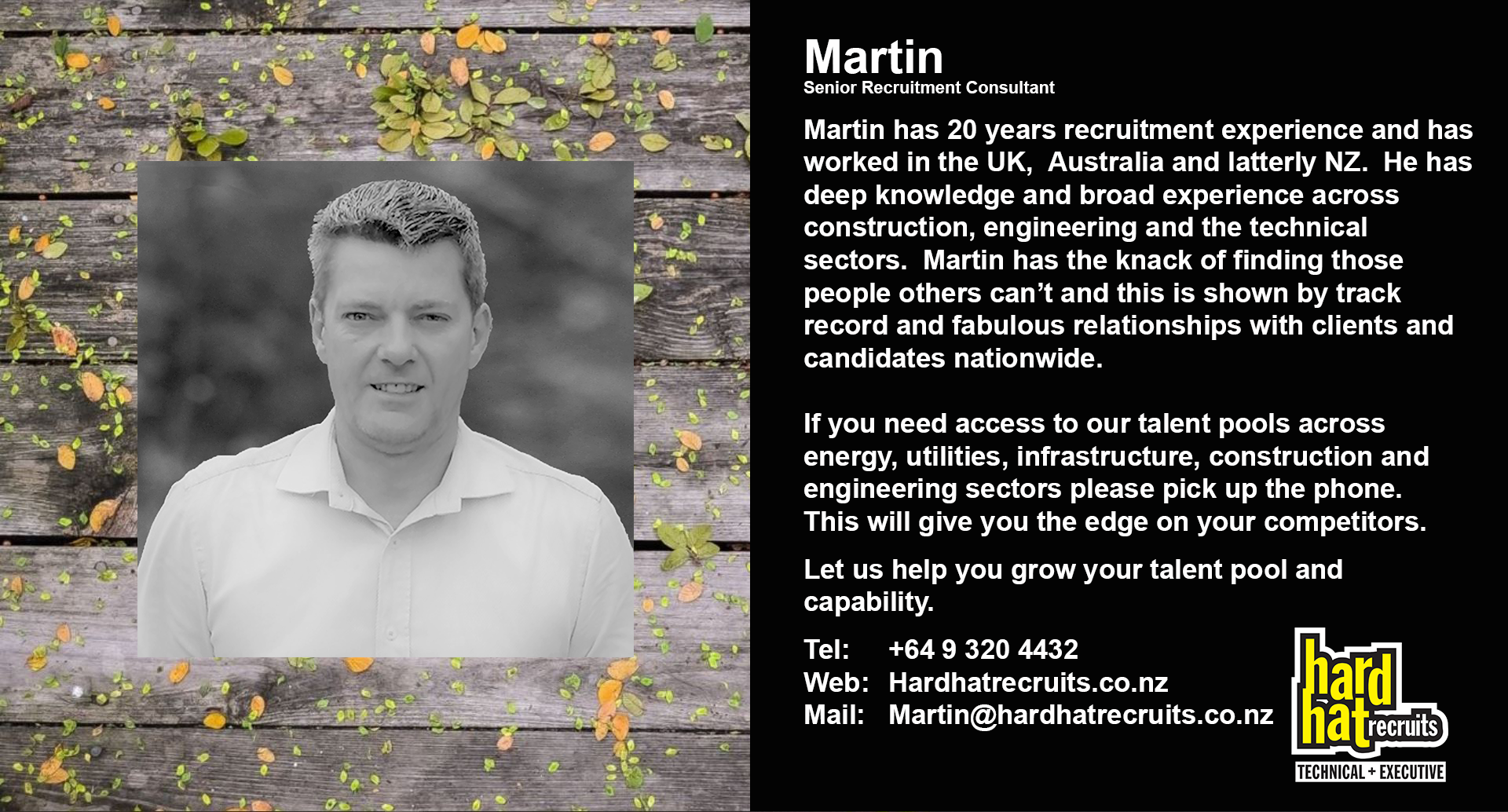 Martin is a Senior Consultant with a proven ability in delivering outstanding recruitment solutions that are tailored to the needs of each business. His calm manner, professionalism and personable approach allows him to build strong relationships with both clients and candidates. In doing so, he consistently delivers positive outcomes for all key stakeholders, adding value to businesses, and making the candidate experience as enjoyable as possible.
How did you end up in recruitment?
Recruitment was not something I had ever thought of doing. Having missed out on the opportunity to run for president of WHO, my best friend invited me and my ex-partner for a meal in a posh restaurant with him and his wife. He owns two engineering companies that work in candidate short markets and his wife was working as a Recruitment Consultant. After chatting for a while, we put two and two together and the decision was made. Two weeks later I found myself sourcing Engineers for his two businesses and he was so thrilled with the quality of the service I provided him, that he recommended me to other businesses in the sector. To cut a long story short, word got around that there was a Recruitment Consultant who knew the industry inside out. Ten years later I had a client base of around 400 clients.
If you could change one thing about yourself to date what would it be?
To be fair, and not wanting to sound arrogant, but there is nothing that I would like to change about myself. When I was younger there were times when I made poor decisions. So, if I could turn back time, then I would like to think that I would have done things differently. One thing is for sure. I would certainly have made the extremely long journey to New Zealand a long time ago. Had I have done that, then I would like to think that I would have arrived in paradise a lot sooner.
Your 3 favourite things about NZ?
New Zealand is my idea of paradise on earth. I find there is nothing more relaxing than spending time next to the ocean and surrounded by natural beauty. We have that in abundance. Fantails are the most amazing creatures. I had never heard of them before arriving in New Zealand. I love the way they follow you around and flutter around your feet. The people are so friendly. Having lived in 3 other countries prior to arriving in paradise, I can say that Kiwis and Maori are the most welcoming of people.
How would you spend your 65th birthday?
To be fair, I have mastered the art of counting backwards. Therefore, I would like to spend my 35th birthday in the best Thai food restaurant I can source (proactively of course) enjoying a good old fashioned Massaman curry. Preferably in a restaurant with good sea views. And yes, you are all invited if you have a nicely wrapped pressie for me.
Given the changes taking place in labour markets across New Zealand and with borders being closed to overseas applicants, how do you expect to add value to local businesses?
Recent events have resulted in most businesses putting a freeze on recruitment, other than the need to source talent for "business critical" roles.  In the last month, we have seen an increase in short to medium term contracting openings, as few employers look to make permanent appointments. As the economic climate improves, there is likely to be an increase in demand for individuals that work in occupations where there is already a skills shortage.
Looking into my crystal ball, I envisage there being a somewhat cloudy outlook over the next few months, with some sunny spells. Saying that, we already seeing businesses that work in candidate short markets finding it increasingly difficult to source the talent they need to grow their business. If nothing more, this highlights the importance of reaching out to those employers with a genuine need for assistance. Here at Hard Hat Recruits, we have always believed that we are in this together and our aim is to serve the needs of local businesses that have a genuine need for a specialist recruitment service tailored to their individual needs.
If you happen to be a hiring manager in a business that is finding it increasingly difficult to secure talent to fill business critical roles and want to access our deep talent pools to gain the edge on your competitors, then pick up the phone today and let us know what we can help you with right now?
Let us help you to secure the talent you need to grow your business.